Sometimes I find it hard to shop for children who appear to own every item Toys 'R Us carries. And more often than not, I find myself with limited time with which to create unique, one-of-a-kind gifts. I mean, let's face it...who really has an over abundance of time on their hands? I sure don't.
So, what can a mother do in this situation? Meet the situation head on.
This past Friday I headed to Jo-Ann's to pick up the fabric and bias tape so I could sew a gardening apron for the neighbor girl's birthday. I know this family enjoys spending time outside and they have a garden so I felt inspired to create a garden apron and fill it with supplies.
Chloe helped me pick the perfect fabric. I opted for a duck fabric for the weight and durability.
We filled the three pockets on the front of the apron with gardening tools (Fiskars $.88 each at Home Depot), cute garden stakes (Michaels), gardening gloves and hat (Michaels), a water bottle (Michaels.) because you really need to make sure and drink plenty of water while working in the garden, a little watering can (Michaels) and some packets of seeds (Home Depot).
I sewed the bias tape in such a way that it doubles as the neck loop and the ties for the back of the apron. I will post a tutorial in the next couple of days so you can make this apron if you like.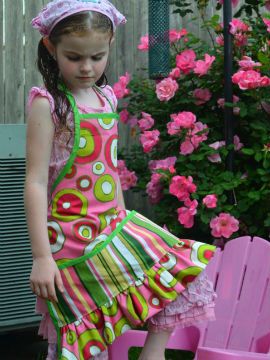 It literally took me 1 hour to whip this darling apron up. Such an easy project for a quick gift when you are out of time and the party is that very evening. Of course, you will need an hour or so to shop for supplies to put inside the apron, unless you the apron is the gift itself. Either way, any budding green thumb would love this little apron.