Wow. It's been so long since I have felt like making
anything
. Food included.
Why?
Well, it seems I've been suffering from a case of depression again. Sigh.
Yes. I know. Sigh again.
Anyhoo. About a month ago I decided to kick it in the rear end. For good! I started running every day (or almost every day) and I changed up my diet. I am eating a TON of fruits and veggies every day, limiting my meat (namely red meat) intake and really focusing hard on portion control.
James came home about 3 weeks ago and said, "Let's give up sugar for a month."
To which I replied, "Okay."
And I've been sticking with it ever since. I haven't even had a speck of sugar in my morning coffee.
YIKES!
I know. I know. Hard to believe. But true.
I have started to see some results. WHOOPEE! Big cheer. Happy dance and all that jazz. One of the biggest changes I've noticed is my desire to cook. It's back! And it's exciting! I've been all over
Pintrest
pinning recipes to try. I've cooked some amazing food and tried some delicious (and not so delicious) recipes.
I thought I would share a couple of recent one with you, if you don't mind.
First up are some Swordfish Skewers I tried from a Healthy Kitchen magazine I picked up last year from Whole Foods.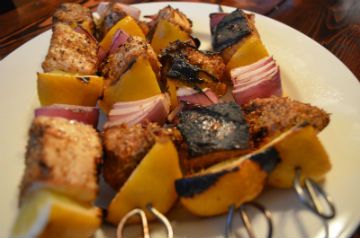 I rubbed the fish pieces with ground coriander and then stabbed them onto the skewers between lemon and red onion. After drizzling some olive oil over them I grilled them on my gas grill for about 8 minutes, turning often, until the fish was done.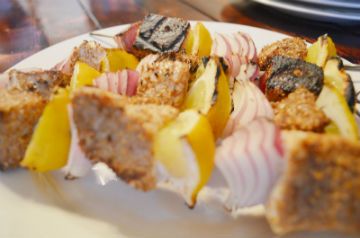 Now the magazine recipes stated the grilled lemons are perfectly edible. James nor I could manage to try.
Swordfish is expensive. We paid $18.99 a pound. YIKES! We ate it and it was good. Not $18.99 good though. We didn't notice anything incredibly special about it. But it sure was fun to try a new fish. Now we can say we ate swordfish.
Earlier this week I cooked up some Thai Chicken Lettuce Wraps and some
Sugar Snap Peas
from the same magazine.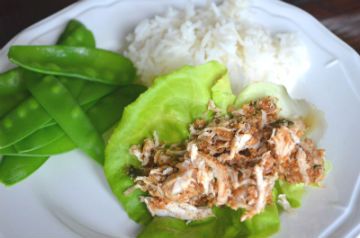 Yum! Okay. So, I was a little nervous using Sriracha for the first time. I was unsure how hot this sauce would be. Well, as we ate the lettuce wraps, I decided I could have used a little more. The chicken just didn't have enough "kick" to it. I like "kick".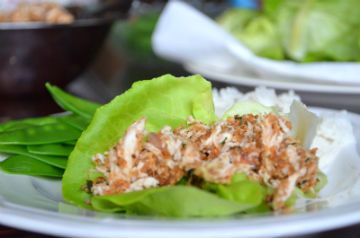 We would definitely make this one again. Although I think I am going to try to find a P.F. Chang style chicken lettuce wrap recipe to try first. Like maybe
this one
. Or this
vegetarian one
made with tofu. I've never tried tofu before and if
Pioneer Woman
says its good than it certainly must be.
James mentioned to me about a week ago that he would like to try age-dried ribeye steaks. He heard that they were quite delicious. Age-dried steak. Once you eat it, you can't go back. Especially when the cow was grass fed and raised organically. Talk about delicious.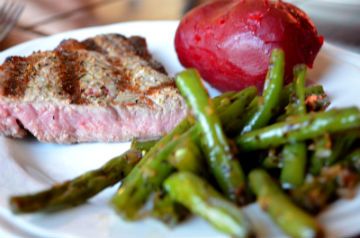 Tonight was our second time grilling this steak. I rubbed it with olive oil and then sprinkled some garlic pepper all over it. James grilled it for a minute or two each side. I served the steak with some
Savory Green Beans
and
Roasted Beets
.
Both Chloe and James liked the green beans. Next time I will decrease the salt by half. I will also turn the temperature down to med-low and cook for 10 minutes instead of 20. It was James and Chloes first time trying beets. They both liked them.
Well, that has been enough cooking adventures for now. I hope to have many more to share with you soon. Have a fabulous Sunday everyone.